Your guide to researching colleges
How many times have you been asked this dreaded question?: "So what's your plan for college?"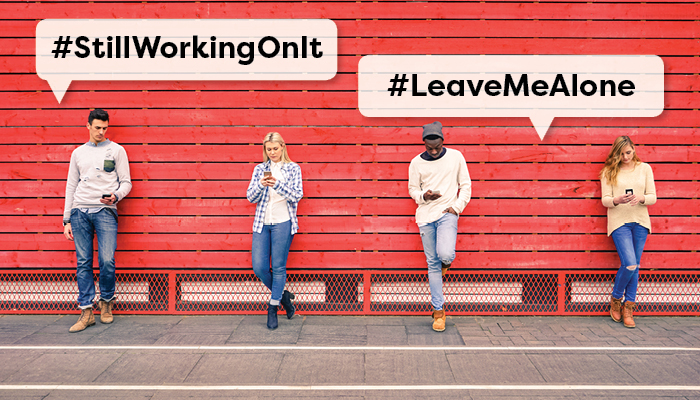 Researching colleges can be a time-consuming and daunting task. You've got brochures, websites, forums, and friends and families' opinions coming at you from all directions. But believe it or not, there are ways to get through this without winding up in the fetal position.
"Don't freak out, because if you pace yourself, you can figure it out," says Seamus, a junior in Boston, Massachusetts.
Here's a guide that'll make navigating your college search process a lot less painful.
Getting started
First and foremost, remember that college is about you and your future. If you have no clue what that future holds, that's okay (and totally normal).
For now, consider your skill set and what you can do with it. Think about what you'd like to try and what you think you'd be good at in the future. Just because you've never taken an improv comedy class doesn't mean you can't be the next Keegan-Michael Key or Jordan Peele.
To further narrow things down, ask yourself, "What gets me excited?" Then consider the big picture, looking at where those passions fit into degree programs offered by colleges.
"If you don't know what you want to study, pick a college that offers a variety of different majors so you can explore and possibly find a new passion," says Lynette, a recent high school grad from Boston, Massachusetts. "If you have decided on what to major in, then pick the colleges that offer those majors to [help you] sort through the many options."
Next, move on to looking at specific schools. These websites have super helpful search engines:
College Board allows you to search using your test scores, schools' credentials, size, tuition, location, admissions requirements, and more.
College Navigator from the National Center for Education Statistics lets you build a list of schools based on your search criteria and then exports them into a spreadsheet for side-by-side comparison.
Look into programs in the fields you're interested in
Your college education will help jump-start your professional future, no matter what field you choose to pursue. That's probably why 90 percent of students who responded to a recent Student Health 101 survey say the number one thing they look for in a college is that it has programs relating to their interests.
If you have no idea what you want to study yet, keep in mind that most of the time you'll be able to change your major. Most schools also allow you to apply as "undeclared," meaning you haven't decided which major to pursue yet. Learn more about the pros and cons of applying as undeclared.
John LaBarbera, the director of undergraduate recruitment at Queens College, City University of New York, says the general education classes that you'll take in your first couple of years help students who are undecided "figure out what they want to do as they go along." Yes, you need to take them to graduate, but they also give you an idea of which majors interest you.
If you excel in a particular subject but are still undecided on a major, look at schools known for their programs in that area. Say, for example, you're good at science and math. If you apply to schools that specialize in those departments, your background will make you an appealing candidate to the admissions committee. Once you're in, you're likely to find a major specific to your passions.
What else is important to 90 percent of students we surveyed? Location, location, location.
Whether you want to venture out miles away from home or stick close to your roots, here are the benefits of both options:
Living near or at home means…
Close proximity to family and hometown friends
Saving money on room and board
Living in a place you're familiar and comfortable with
Nearby help if you need it
Living in a new town or city means…
New experiences in a new place
Meeting a diverse crowd of people with backgrounds different from yours
Learning to live independently for the first time
Potential for different types of job opportunities than what your hometown or city offers
Admissions criteria
For better or worse, your credentials are a big deciding factor on where you'll be accepted into college. Compare your GPA and SAT or ACT test scores to the average GPAs and test scores of those accepted into the college you're applying to.
For help, check out these tools from College Simply.com:
Cost
The cost of college is on two-thirds of students' minds, according to our survey—and for good reason.
After evaluating your financial situation, you may find that taking out hefty loans isn't going to be what's best for you. Fortunately, there are ways you can attend college without breaking the bank:
State schools: Financial aid and student loan options vary from state to state and school to school, but schools in your home state will almost always offer better financial opportunities than out-of-state schools.
"Cost is a genuine worry, I get that, but scholarships exist and should be taken into account," says Seamus. "Pick a college that you would be happy going to."
Scholarships, grants, and more non-loan offerings: Check and see if the schools you're interested in have scholarship opportunities and how competitive they are.
This Peterson's tool can help you search scholarships, prizes, forgivable loans, fellowships, and grants by state.
Check out the "Pay for college" page on College Board to learn the ins and outs of financial aid, loans, and scholarships.
Internship and job opportunities
Check if your dream school has employment opportunities for students, on or off campus. Some programs also offer internships for course credit. This will get you great career experience and offset some of your expenses.
Social scene
Let's be real: Your social life is crucial in college. You're going to need a way to wind down after hours of class and a support system to help you through these big life changes.
You can get a feel for what a college's social scene is like before you even visit:
Check out a campus map to look for places where students can publicly convene, inside or outdoors (e.g., cafes, sports venues, quads). Hangout spots are essential to an awesome college atmosphere.
Browse through event calendars to see if the school has parties or socials where students can mingle. Bonus points go to events with free food.
Scroll through a college's social media handles to see how students interact and how the school presents itself.
If you're able to physically visit colleges (we highly recommend it), pay attention to a campus's atmosphere and culture:
LaBarbera recommends simply taking a walk through campus to help you gauge whether or not you like a school's environment. Imagine yourself as a student to see if you'd fit in.
Schedule a guided campus tour. Most admissions offices offer them.
Colleges have open houses every fall where you can learn more about their programs and campus life.
Size
Think about the amount of people you want to be surrounded by every day—would you prefer hundreds or thousands? Do you feel energized by crowds or small groups? Take into account how big your high school is and whether or not you want your college experience to be similar.
Also consider class size and student-to-teacher ratio. Do you want to take classes in a giant lecture hall with 100 or so other students? Or would you rather have a more personal experience, with 10 or so classmates? Just remember that your classes will likely get smaller over time as you narrow your focus and take more courses specific to your major. 
Sports programs
If you're an athlete, quality sports programs are probably high on your list of college search criteria. Find out anything you can about the team's record, coaching style, the dynamic between players, and the benefits that come with the program you're looking at. This is a good time to look into athletic scholarships too.
"Student athletes who want to play at an National Collegiate Athletic Association (NCAA) school should start talking to their coach and school counselor as early as possible to make sure they meet the academic criteria and are cleared by the NCAA Eligibility Center," says Stacy Ciarleglio, head athletic trainer at the Westminster School in Simsbury, Connecticut.
Even if you're not a serious athlete, most schools offer fitness classes and have some kind of recreational or exercise facility. Check out whether any of the schools' athletic offerings pique your interest.
Get specific
Now think about some of the nitty gritty details. What kind of experience are you after?
Devour colleges' websites. Research the degree programs and faculty members. Check out professor bios to see details about their experience, published research, areas of interest, or awards and accolades.
Pro tip: Check out Rate My Professors for reviews written by the students themselves. These can also give insights about the program the professor is teaching in. 
Ask around—talk to alumni, upperclassmen, family, and friends. Firsthand accounts from alumni and current students can give you information about a college's specifics in a way that no admissions officer can.
"I asked around, especially my cousins or siblings in college, as they had already done searches," says Seamus, a junior in Boston, Massachusetts. 
Stop by your school counselor's office. It's their job to be a resource for you as you undertake the college search process.
Don't forget about community college
There are tons of reasons why students choose to get associate degrees from two-year programs instead of (or before) getting bachelor's degrees from four-year schools. Here are a few: 
Cost
For starters, you pay much less to take classes at a community college than you would for equivalent classes at a four-year college.
Flexibility
Community college programs offer more freedom in your schedule compared to most four-year colleges. Because of this, the Princeton Review says that two-year community college programs might be something to consider if you want to work while in school. You can also use that time to save up for the four-year college of your choice.
Get an academic boost
Taking general education classes at a community college can give you the credentials you need to transfer into a four-year program at a state school. Many community colleges have partnerships with local universities for this reason.

"Community college offers students the chance to meet the general ed requirements much more affordably (if you intend to transfer), and it gives you extra time to consider majors," says Dr. Sharon Sevier, a licensed psychologist and retired school counselor of 31 years from Wildwood, Missouri.
Browse all types of community colleges and their enrollment information at Community College Review.
Article sources
John LaBarbera, director of undergraduate recruitment at Queens College, City University of New York in Flushing.
College Simply. Colleges by admissions test score. Retrieved from https://www.collegesimply.com/guides/colleges-by-test-score/
College Simply. College search by GPA. Retrieved from https://www.collegesimply.com/guides/colleges-by-gpa/
Community College Review. Find community colleges. Retrieved from https://www.communitycollegereview.com/find-schools
Franklin University, Foundations for Success. (2016). How to research colleges, degree programs and faculty members [Blog post]. Retrieved from https://www.franklin.edu/blog/how-to-research-colleges-degree-programs-faculty-members
Peterson's. (n.d.). Scholarship search. Retrieved from https://www.petersons.com/college-search/scholarship-search.aspx
Princeton Review. (n.d.). Four reasons to consider community college [Blog post]. Retrieved from https://www.princetonreview.com/college-advice/community-college
Student Health 101 survey, July 2016.
The College Board. (n.d.). Pay for college. Retrieved from https://bigfuture.collegeboard.org/pay-for-college
The College Board. (n.d.). Scholarship search. Retrieved from https://bigfuture.collegeboard.org/scholarship-search